We call them HIJRA , KINNER , EUNUCHS or these days by the name of LGBTQ 🏳️‍🌈 people . But who are these people where do they come from ? We never saw where do these people live . I never had my neighbor to be one of them .
It is a word of utmost strangeness that living in the 21st century we still call these people as a sign of a-shame . It is brave that our constitution , after their numerous amounts of fights with first themselves and then the society , decided to change the system and bring these people of utmost equality . It's right it is a way of justifying democracy in the world where we still find people being bias on the basis of caste , color , sex and religion . But this isn't going to be the same old article about how the law considered them as equal to us on the greater level . Instead , it's important for us to see them on how they are categorized and distinguished on the general level by us as a society.

Interestingly , homosexuals are born just like you and me . Normal ! But with time as they grow we separate them into a complete new world . We throw them out of their homes separate them from their families deliberately which comes as a societal pressure and put them all together in a different category or community . Famously known as the Hijra culture . These people who are born as a male initially but develop the feelings of a women in them . They are not somebody indistinct from us but just how the god's let them be born as a bisexual personality on earth . There is a history old culture of eunuchs in the world . Where they were kept to serve two purposes of being strong and delicate at the same time by attributing their physical characteristics as male and their emotions on the other hand as female . But the brutality in India is so far so substandard that many males are castrated to become one .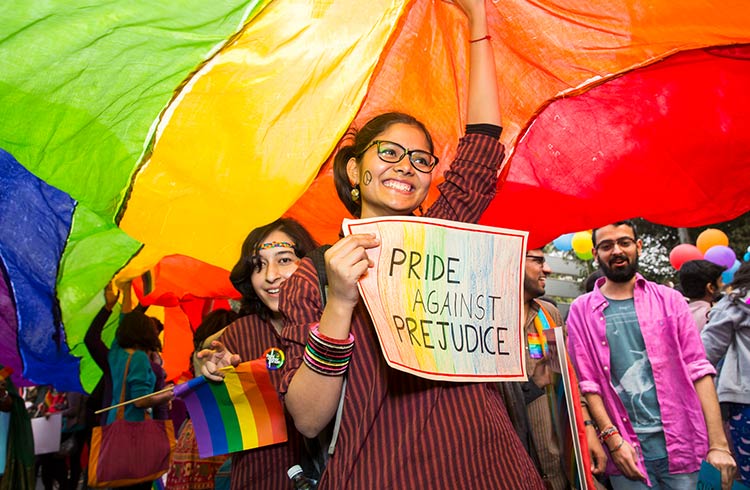 Being a part of the LGBTQ community in India today is still not easy although it is growing drastically in India and people are becoming more and more aware for the same . But still those who come from the educated and stable families are able to survive through but all those bisexuals born in a poor family are often out caste and are forced to leave their homes . Their survival becomes difficult . For survival these people need to work as Hijras , dance , beg and work on traffic lights . Most of them are often exploited and are left with no option but work as sex workers. Most hijras live at the margins of society with very low status; the very word "hijra" is sometimes used in a derogatory manner . Many get their income from extortion (forced payment by disrupting work/life using demonstrations and interference), performing at ceremonies (toli), begging (dheengna), or sex-worker ('raarha')—an occupation of eunuchs also recorded in pre modern times. Violence against hijras, especially hijra sex workers, is often brutal, and occurs in public spaces, police stations, prisons, and their homes.As with transgender people in most of the world, they face extreme discrimination in health, housing, education, employment, immigration, law, and any bureaucracy that is unable to place them into male or female gender categories.
But with time we could see many reformers of the community have come up and fought for their rights such as LAXMI NARAYAN TRIPATHI , GAURI SAWANT and many more who have been recognized and initiated a change in the societal mindset . The problem is not about being a transgender or choosing a certain way to live . The problem has always been for the other gender to accept an individual's choice and identity . Many people from India only one side they pretend to preach trans (since in our Hindu dharma they are denoted as demigod and goddesses) and on the other are raped and extorted . This duality is needed to be curbed . Often we see these people need to leave their homes because of the societal taboo and live in a completely stranger place . Think about how would you be if you were to be treated as them . When god never distinguished between us and them , then who are we ? We all are people of god and the earth belongs to each and everyone of us who take birth on this planet . Stop differentiating and start accepting. 🏳️‍🌈